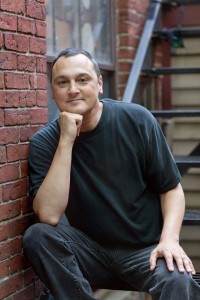 Welcome to this episode of the Real Fast Results podcast! Lou Bortone is here to share his knowledge with us today. He is an expert in online video marketing. This is incredibly important, nowadays, to marketing your business, but the fact of the matter is that a lot of people are afraid to utilize it. Lou is a video marketing specialist and a video pro who helps entrepreneurs, coaches, authors, and speakers to build their brands on the Internet. This is so that they can have more visibility, credibility, and profitability. You may recognize Lou's name, as he is a former television executive who worked for E! Entertainment and Fox in Los Angeles. He's also the author and ghostwriter of six business books, a certified guerrilla marketing coach, and a Book Yourself Solid certified coach. You can find out more about Lou at
LouBortone.com
.
Promise: 6 Ways to Empower People to Make Their Own Videos
We are going to give folks, not one, but six, different ways to do video so that we can empower them to make their own videos.
As you know, video has really become the way that we share, we communicate, and we sell.
So much of the world, and the Internet, is going the way of video that it's really at
a great disadvantage
if you are not using video to market and promote your products and services.
People think it's very time consuming, or complicated, or they don't like being on camera.
We are going to give you a few tips and tricks on how to do video whether you want to be on camera or whether you don't want to be on camera.
We've got some solutions for you if you're camera shy, in other words. A great thing about this is that if you find a way to do video that works for you, or what I call, "your video sweetspot," you'll probably do more of it, and it will be a real fast way for you to create video. [bctt tweet="There are at least 6 different ways to create video, regardless of your experience or how camera shy you may be" via="no"]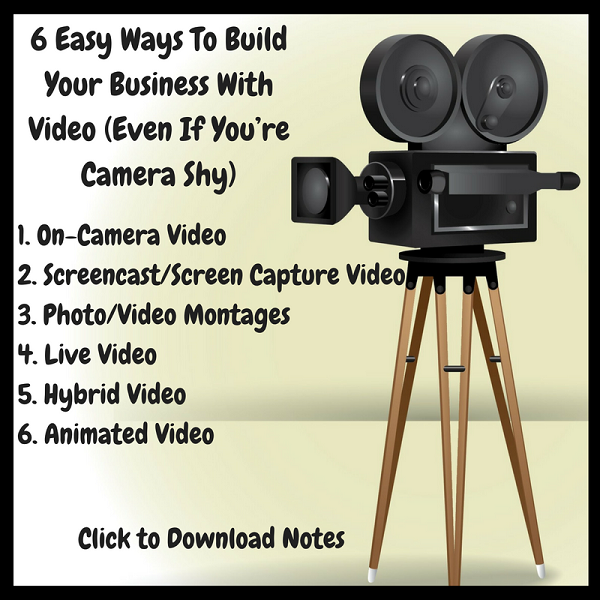 Learn
6 Styles of Video
The first one is probably the most obvious, which is on-camera video. It's kind of the standard talking head video. We'll talk more about that in a moment.
The second type is screencast or screen captures. We'll also share some ways to do that.
Third is through photo/video montages.
Forth is live video, and I'll tell you how that differs from on-camera video.
Number five is what I call hybrid videos, which are a combination of live and on-screen.
Sixth is animated video.
Connecting with Lou
If you want to know more about me, and what I do with video, and how I help people, you can go to
LouBortone.com
. There you can find additional resources and reach out to me if you need any help or if you're stuck. I pride myself in empowering people and making it simple, and painless, and fun. I also have great course to help you do video a little bit at a time. It's called: "
10 Minute Video Trainer
." So, that's my story, and I'm sticking to it.
Resources
Lou Bortone's 10 Minute Video Trainer
LouBortone.com
Screen Capture Software
Camtasia
Screenflow
- for MACS
Screencast-O-Matic
Free Screen Capture Software
Jing
Google Hangouts
Zoom.us
Software for Montage Videos
Animoto.com
Superflicks.com
Adobe Spark
- for iPad
Software for Animated Videos
PowToon.com
GoAnimate.com
Doodly
VideoScribe
VideoMakerFX
How to Build Credibility in Your Niche Fast with Scott Paton
Real Fast Results Community
If you are diggin' on this stuff and really love what we're doing here at Real Fast Results, would you please do me a favor? Head on over to
iTunes
, and make sure that you subscribe to this show, download it, and rate & review it. That would be an awesome thing. Of course, we also want to know your results. Please share those results with us at
http://www.realfastresults.com/results
. As always, go make results happen!